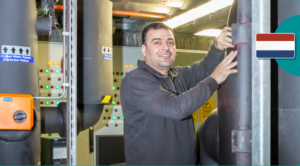 Khaled used to work as a taxi driver in Damascus, Syria. When he and his family arrived in the Netherlands on a temporary asylum permit 5, the language barrier prevented him from continuing in this profession. However, Khaled possessed many other technical and practical skills. Back in Syria, he had built his own house!
A Dutch staffing company, jointly with one of the local governments, had established a training programme, including people with a temporary asylum permit. The agency also knew about different client companies that were open to take on workers who might need to learn on the job. One of those companies was specialised in insulation techniques. In their experience, motivated people are able to learn the trades required to perform the job, provided that they have the technical skills and good spatial awareness. The company immediately recognised Khaled's natural talent and retrained him as an insulation technician. Despite the language barrier, a lot could be shown to Khaled on the job due to the practical nature of the work. Alongside the vocational training, Khaled also followed a Dutch language course.
Khaled is extremely positive about his work as an insulation technician. He especially enjoys having the chance to visit different locations and work with many different nationalities – even though the workplace language is Dutch. One of his friends from Syria even ended up working with him. The support Khaled received from the staffing agency and his own commitment really paid off for both him and the client company. They found that Khaled was able to do more in a few months than most new mechanics can accomplish after three years and they have already agreed to hire Khaled directly on an open-ended contract, once his contract with the staffing agency ends.