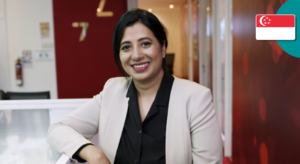 Mahbuba was born in Bangladesh and moved to Singapore in 1994. For nine years she worked at Changi airport. Then, the Covid-19 pandemic struck and severely impacted the airline travel industry. 150 people saw their jobs terminated as air traffic went into complete lockdown. Mahbuba was one of them and this had an immediate effect on her living status. Without employment she was not able to remain in the country long-term.
She approached an employment agency, Adecco Singapore, who trained and reskilled her. Quickly, Mahbuba found a new role. She was given the opportunity to start work right away in a part-time position in admin support. Not long after, Mahbuba found that her long-term goal was to pursue a career as a recruiter. She was given full support in her training to become a licensed recruiter, including helping her practice for the certification exam. She is now a full-time recruiter for Adecco, helping people who are in the same situation as she was.
Mahbuba recalls how losing her job affected her family, her earnings and her life in Singapore. She felt scared and helpless in dealing with the immigration matter. She is grateful to Adecco for supporting her and guiding her along the way. Being happy at her workplace, she now feels secure about her future in Singapore.