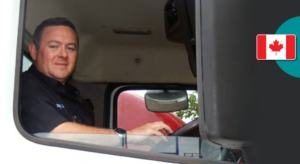 Mike began his career as a professional driver in the Canadian trucking industry, travelling throughout Canada and the United States. A contract position at a Canadian temporary work agency specialised in logistics caught his interest and little did he know that it would be a stepping-stone to full-time employment with endless opportunities to hone his talents.
In his position at the logistics temporary work agency, Mike played a crucial role in tackling the driver shortage crisis in Canada's trucking industry. Predictions show a potential shortage of more than 48,000 drivers by 2024. Mike developed a successful apprenticeship programme that enabled new candidates to receive the training they needed to be successful in the trucking business, effectively mitigating the impact of the industry's driver deficit.
An opening in the temporary work agency's safety department in 2013 led Mike to pursue his interest in safety and change "career" lanes. He nevertheless remained a part of the continued development and training of professional drivers. Shortly after having completed his safety training, where he received the tools to formally develop and implement successful programmes for new drivers, Mike became a safety and compliance specialist. In his new role, Mike was responsible for developing and facilitating safety training for groups of drivers and office staff, ensuring that drivers are taking the necessary steps to comply with safety regulations.
After about a year and a half in the safety seat, Mike took another career step when an operations management position opened at the logistics temporary work agency. Mike praises the major role which the staffing agency's team has played in his continued success, going from professional driver to safety specialist and now to a manager position.