Velocity Network Foundation
The Velocity Network Foundation is a non-profit consortium that seeks to use blockchain technology to build an 'Internet of Careers™. It brings together members from across HR and Education Technology, gig and contingent workforce platforms, employment marketplaces, background and credential services, assessment and people insights providers, recruitment, development and advisory firms, nonprofit and multilateral organizations, employers and educational institutions.
The World Employment Confederation joined the Velocity Network Foundation in 2020 in order to be directly involved in shaping the standards and processes that will enable the 'Internet of Careers™' as profiled in Velocity's vision. The World Employment Confederation believes in the potential of cross industry collaboration and blockchain technology to reduce frictions in the process of connecting people with work and to make it a positive and trusted experience for candidates, workers and employers.
Reshaping Work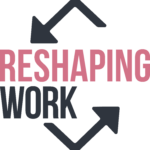 Reshaping Work is a foundation that facilitates innovative international series of events and projects, pioneering the multistakeholder approach to discussing the latest trends concerning the future of work and digital innovations more broadly by promoting research and collective thinking.
The primary objective of Reshaping Work Dialogue is to create a permanent knowledge interlocutor where parties interested in the future of work debate can acquire knowledge, exchange views, and negotiate positions via the means of a constructive dialogue.
The World Employment Confederation joined the Reshaping Work Dialogue in April 2022 to take part in the work stream discussing AI at the workplace. The objective is to share the expertise and experience of the private employment services industry is ensuring AI ethical principles and deploying this technology to the benefits of both workers and businesses.