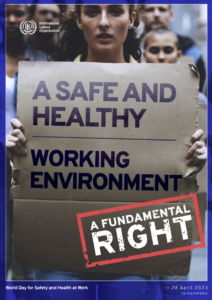 A safe and healthy working environment is a fundamental principle and right at work. One year after including this right in its framework of fundamental principles and rights at work, the ILO will discuss its implications when implementing it in the world of work. On 28 April – on the occasion of the World Day for Health and Safety at Work – the ILO will present research findings on the implementation status of various provisions of the fundamental Conventions No. 155 and No. 187, its Fundamental Conventions on Occupational Safety and Health.
Respect for Health and Safety at Work is also a core principle defended by the HR services industry. One of the ten principles in the Code of Conduct established by the World Employment Confederation, it requires that private employment services shall act diligently in assessing risks to promote the health and safety of workers in their workplace and that they shall inform workers whenever they have reason to believe that any particular assignment causes an occupational health or safety risk.
Agency workers are more likely than permanent employees to have an accident in the first three months of work, for various reasons, including more young people, lateral entrants, newcomers and returnees, and the many professions involving manual activities. One reason should, however, always be unacceptable to explain accidents: insufficient occupational safety training and awareness. The sector has therefore taken up its social responsibility and developed voluntary initiatives to ensure agency workers' health and safety at work. See below a couple of examples from WEC members around the world.
During the Covid-19 crisis, the HR services industry also paid close attention to the health and safety of agency workers, especially as those were often in frontline jobs. In 2021 the World Employment Confederation adopted guidelines relating to occupational health & safety protocols to be applied to agency workers regarding vaccination, testing, basic protective measures, public health interventions, and tracing. The overall objective was to ensure that the same equal standards and practices were applied to agency work personnel as to user companies' personnel.
Beyond health and safety at work, the agency work sector also has a long-standing tradition of ensuring social protection, including access to sickness benefits. As for other holders of regulated labour contracts, agency workers enjoy statutory access to such benefits. In nine out of ten countries surveyed in the WEC Social Impact Report 2020, full statutory access to healthcare insurance is available to workers on an employment contract. Regarding labour accidents/disability insurance, agency workers were fully covered in nearly all countries in the sample. In contrast, self-employed workers had full statutory access to insurance in only one-third of the countries.
Social dialogue has been central to improving working conditions and social protection for agency workers. The topic is still a focus for the EU Sectoral Social Dialogue Work Programme 2021–2023, agreed upon by WEC-Europe, WEC's European regional federation, and UNI-Europa, representing the European trade unions.